[CARS]
[Prices]
[INSCRIPTIONS ON CARS]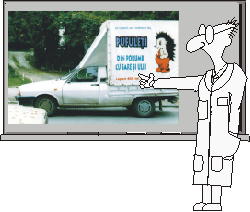 INSCRIPTIONS ON CARS
We make inscriptions on:

cars
buses
tilts for vans
Order and making :
The design of the above mentioned inscriptions is made on computer. Due to this fact the quality and the aesthetic look of our products are satisfactory.
The products are made within a week.
When you order it you have to pay 34% deposit ,and at the handing over of the product you have to pay the rest of the price.
We never change the price which has already been calculated .
The price of the inscription for cars is 20$/m2, 18$/m2for buses and 24$/m2 for tilts (see the price list)
Due to our 6-year experience of making inscriptions we guarantee for the inscriptions on cars and buses for 1 year, and 0.5 year on tilt.
Allowances:
Returning customers will be allowed a discount.
If the order exceeds 500,000 lei we shall go to the spot for the sake of the order.
If you use Internet to order you will be allowed a discount of 10%.
If you order several identical types of inscription you will be allowed a discount: above 100 pieces 50%; above 50 pieces 25%.
If you order several different types of inscription you will be allowed a discount: above 15m2 10%; above 30 m2 15%and above 60 m2 20%
[CARS]
[Prices]
[INSCRIPTIONS ON CARS]