[CALL-CARDS]
[PRICES]
[DIGITAL CALL-CARDS]
[MAKING CALL-CARDS]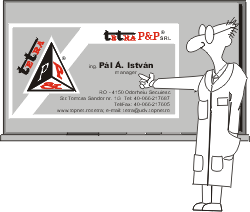 MAKING CALL-CARDS
Ordering and making
The design of the call-cards is made on computer. Due to this fact the quality and the aesthetic look of our products are satisfactory.
The call-cards are made within a week.
When you order it you have to pay 34% deposit ,and at the handing over of the product you have to pay the rest of the price.
We never change the price which has already been calculated .
Due to our 6-year experience of making call-cards we guarantee for the product for 1.5 years.
You can order on fax or e-mail as well.
Allowances:
The call-card ordered by you will be put on the Internet free of charge.
Returning customers will be allowed a discount.
If the order exceeds 500,000 lei we shall go to the spot for the sake of the order.
If you use Internet to order you will be allowed a discount of 10%.
If you order several different types of inscription you will be allowed a discount.
[CALL-CARDS]
[PRICES]
[DIGITAL CALL-CARDS]
[MAKING CALL-CARDS]